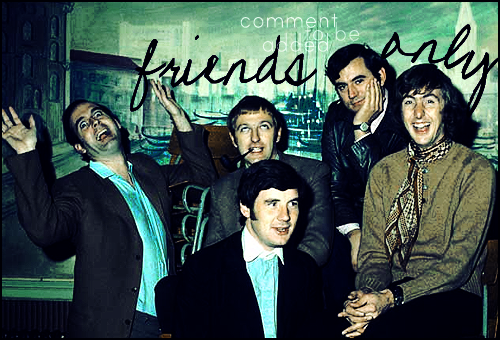 A few things to know about me in considering adding me :) (You can also check out my profile)
I am obsessed with British comedy, and I like to slash those comedians.
Among my favorites are Monty Python, HIGNFY (Paul Merton mainly), Whose Line Is It Anyway?, Reeves and Mortimer, Mitchell and Webb, and Father Ted.
Sometimes my entries are a bit depressing, so you are warned!
I am 19 years old, but I almost never act like it.
I ship: Paul Merton/Ian Hislop (HIGNFY), Vic Reeves/Bob Mortimer (RPS), Paul Merton/Tony Slattery (WLiiA?), Michael Palin/Eric Idle (Monty Python), Timothy McGee/Abby Scuito (NCIS), House/Wilson (House, M.D.). For a full list check out my profile!
I love Harry Potter.
Other shows I enjoy are: House, M.D., Eureka, NCIS, Breaking Bad, and Law and Order: SVU.
By no means do I ONLY want to add people who share my interests, I would like to add all lovely people. But just to warn you with everything that this journal contains. Though, most of what is known about in terms of shipping is more localized within my community for fics and icons at
missanneelk
!</lj>
Current Mood:
determined